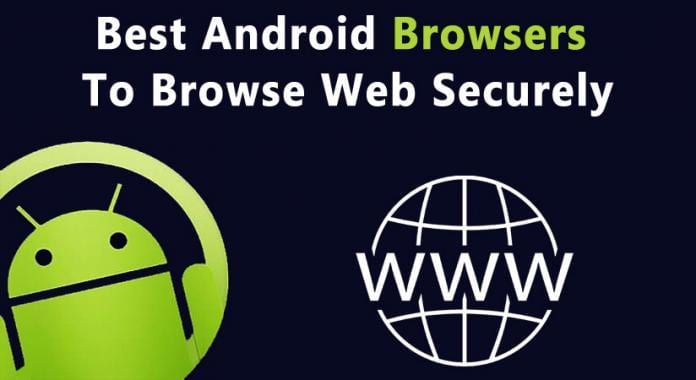 n this cyber world, security is always the priority in any region. Similarly, secure browsing is a way to browse safely or say anonymously over the internet. Mostly user thinks that they very safe over the web for browsing lots of sites on their device. But that's a misunderstanding as today there are lots of spy agencies that keeps track on users, so it is necessary to ensure your privacy by securely browsing the web. And in this article, I am going to discuss the same for Android users as in my previous I had stated the method to browse on PC securely. So have a look at complete guide explained below to proceed.
Top 10 Best Secure Android Browsers To Browse The Web Securely
Here I am going to tell some of the best secure browsers for Android that are always in incognito mode and always keeps your data clear whenever you close it. And these will provide you the safe browsing experience on your Android. So have a look on these browsers.
Best Secure Browser For Your Android To Browse Securely
#1 Ghostery Browser
This is one the best browser that every security alert user knows. This popular browser provides you the private browsing by default. The major part is that when you close it, app erases all data, such as browsing history, downloaded files, forms, cookies, and entered passwords. Also, this app provides you the fast page access from the websites.
Features Of Ghostery Privacy Browser:
Get an instant overview of the trackers on each site you visit, then block or allow trackers you need
Manage website whitelists
Largest tracker database, with over 2,200 trackers and 4,500 scripts
Additional privacy options with quick and easy access to clear your cookies, cache, and granular history
#2 Dolphin Zero
Many of you must be familiar with this cool Android browser as this browser provides you the high privacy while browsing the web. Similarly like above browser, this browser also clears all the data like cookies, form data, passwords and all other cache files. So must give a try to this cool browser.
Features Of Dolphin Zero Browser:
Adblock (pop-up blocker) Dolphin Browser is one of the best Adblock Browser. With Adblocker, you can block popups, ads, banners & ad-videos.
Incognito browsing: Incognito browsing mode offers you real private browsing experience without leaving any history data.
Clean UI and fast navigation: You can add your most visited websites as speed dial icons with a friendly user interface and one-touch access.
One of the best and my favorite browser as this browser is just better than other browsers. This browser works on HTTPS everywhere policy, and that provides the high security while browsing and also its tabs are isolated from each other from one data to another that stops data trapping from other sites. Must use this browser at least once.
Features Of Krypton Web Browser:
Private: History, cookies and site data are never stored on disk, and never transmitted.
Secure: Each tab is isolated in a separate OS process. Every tab is treated as a distinct instance, with its own memory storage and state.
Anonymous: Enable Tor with a single tap to hide your IP, avoid surveillance, and circumvent censorship. Includes HTTPS Everywhere, and mitigates common fingerprinting techniques
#4 Javelin Incognito Browser
The another modern browser that must be well known by the students as this browser provides you the proxy to bypass the blocked sites over the WiFi. Also, this browser block ads on it and private browsing in it.
Features of Javelin Browser:
Ad Block: Enjoy web browsing with no ads
Always Incognito: Your web history is never saved, and your cookies are always deleted. No one needs to know your surfing habits.
Password Protected: Prevent any snooping on your recent browsing activity, even if it is still active in your recently opened applications. Only you can open Javin.
#5 CM Browser – Fast & Secure
CM is well known to an Android user. A group that had to develop lots of cool apps, similarly, their browser is also good and provides you the secure access over the internet and stops scripts that can track you over the web.
Features Of CM Secure Browser:
Fraud prevention: Warns you when browsing potentially fraudulent or malicious websites.
Malicious download protection: Scans apk file downloads for malware, keeping your device secure
User Agent: Supports user agent switching to access desktop sites
#6 Chrome Browser – Google
Browse fast on your Android phone and tablet with the Google Chrome browser you love on desktop. Pick up where you left off on your other devices with tab sync, search by voice, and save up to 50% of data usage while browsing. You can use its incognito mode to browse safely.
Features of Chrome Browser:
Voice Search – use the magic of Google voice search to find answers on-the-go without typing
Translate – easily read webpages in any language
Intuitive Gestures – open as many tabs as your heart desires and quickly flip through them by swiping from side to side on the toolbar
Privacy – use Incognito mode to browse without saving your history
#7 InBrowser – Incognito Browsing
InBrowser is an incognito/private browser for Android with TOR and video support. Each time you exit InBrowser, everything you've done in the app will be erased, including history, cookies, and sessions. InBrowser is a feature rich browser, and it's in permanent private mode.
Features of InBrowser:
No data is saved.
The Onion Router (TOR) support via Orbot.
Supports agent cloaking (no more mobile version of sites)
Deep integration with LastPass
#8 Asus Browser- Secure Web Surf
ASUS Browser is a fast and secure web browser. It provides an amazing web browsing experience by emphasizing speed, security, and being user-friendly. Its design allows you to browse and search the Internet at the fastest speeds while providing many exclusive features.
Features Of Asus Browser:
Lightning speeds: ASUS Browser runs on leading Chrome-based engine to load web pages rapidly.
Adapts to a region: The Navigation panel displays the popular websites according to your location.
Secure Browsing: Built-in security features protect you from malware and phishing sites.
Do-It-Later: Mark pages as a task to be read later when convenient.
Import bookmarks: Import pages that you saved in Google Chrome to your browser
Apart from a browser, you can use some
Best VPN For Android
that gives you a secure private network to browse anonymously over the internet.
#9 Orbot: Proxy with Tor
Orbot is a free proxy app that empowers other apps to use the internet more securely. Orbot uses Tor to encrypt your Internet traffic and then hides it by bouncing through a series of computers around the world.
Features of Orbot: Proxy with Tor
Orbot bounces your encrypted traffic several times through computers around the world, instead of connecting you directly like VPNs and proxies.
Use with Orfox, the most anonymous way to access any website, even if it's normally blocked, monitored, or on the hidden web.
Tor can help you confidentially research a competitor, get around the Facebook block at school, or circumvent a firewall to watch sports at work.
#10 Orfox
Orfox is built from the same source code as Tor Browser (which is built upon Firefox), but with a few minor modifications to the privacy enhancing features to make them compatible with Firefox for Android and the Android operating system.
Features of Orfox browser:
Orfox is built from the Tor Browser repo based on ESR38
Orfox prevents somebody watching your Internet connection from learning what sites you visit, it prevents the sites you visit from learning your physical location, and it lets you access sites which are blocked.
#11 Maxthon Browser
Maxthon Browser is one of the highest rated browsers for Android today. It's fast, secure, smart, easy to use. It brings you an amazing Premium web experience. Maxthon Browser is a secure browser that offers maximum privacy and security. Browse web pages without leaving any traces, enhancing your privacy & information security.
Features:
Filter web images automatically, offering you a cleaner and data-saving reading environment.
Load web pages in advance for reading with no waiting, even offline.
Maxthon Browser provides multiple search engines. Get instant search results from Google, Bing, Yahoo, Baidu, Yandex, and DuckDuckGo.
Customize screen brightness to protect your eyes.
#12 Armorfly Browser Downloader
Armorfly is a secure browser that offers maximum privacy and security. You can lock your secrets away and enjoy a comfortable browsing experience with all-around protection. With the help of its video detection function, Armorfly browser makes various online videos downloadable
So above is all about How To Browse Securely In Android. Use the above complete guide, and you will easily get secure while browsing the web through your Android device. Hope you like our work, keep on sharing. Leave a comment below if you have any related queries with this.